Nikki Jean Albums
---
From Philadelphia, PA, Spon Vicious is a hip hop artist, engineer, and members of The Roots crew. He has done studio work with Freeway, Rihanna, R. Kelly, The Roots, Peedi Crakk, Young Chris, Beanie Sigel, and more. In addition, Spon and Black Thought teamed up to manage a hip hop group called The Wurxs. Support quality hip hop and download The Wurxs' mixtape Uptown Nights Pt. 1.
Follow The Wurxs on Facebook
Follow The Wurxs on Twitter
Follow Spon Vicious on MySpace
---
From Miami, FL, Steven Jo is an emcee that became a YouTube phenomenon by showcasing his personality and sense of humor to the world. With a true passion for creating music, Steven Jo built a fanbase by acting out wild antics and breaking social norms on camera in front of random people. His attempt at the Cinnamon Challenge reached over a million views and became a feature of local TV news stations as well as Jimmy Kimmel Live. Steven Jo has been recognized by Rihanna, Soulja Boy, 50 Cent, and he's even recorded a song with Waka Flocka.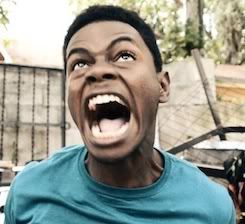 ---